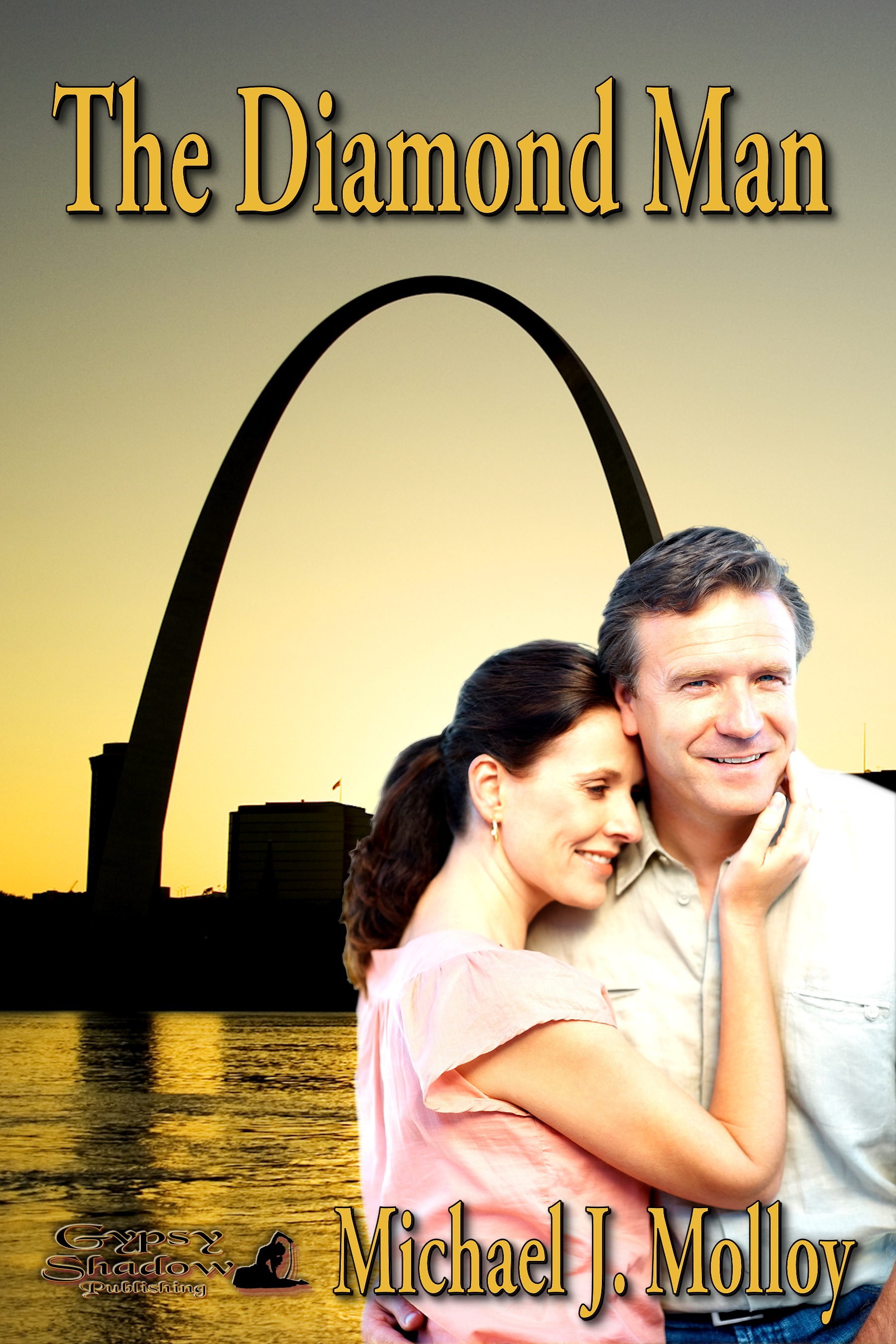 The Diamond Man
By Michael J. Molloy
Published By: Gypsy Shadow Publishing, LLC, May 13, 2013
ISBN: 978-1-61950-099-0
Review copy sent to author
Review written by Ida Vega-Landow
This is one of the most charming books I've ever read. And I'm not saying that just because I know the author. Michael Molloy is the friend of a friend of mine, with the soul of a poet and a fondness for sports. He has managed to combine the two in a surprisingly sweet novel about a sportscaster whose life changes after he performs a heroic act and falls in love.

Diamond Jim Monahan is a regular guy, who earns his living as a minor league baseball announcer on WRVN-AM in Richmond, VA. He's divorced, with a teenage daughter he would like to see more of, and an embittered ex-wife who married the guy she cheated on him with, after she became pregnant by her paramour. It's always been Jim's dream to broadcast games for the big leagues, but he's stuck in Richmond broadcasting for a little local team. His agent in New York keeps promising him it will happen one day, but both Jim and Maureen, his ex-wife, have resigned themselves to the fact that he'll never have a shot at the big leagues. It's the main reason why she left him, because she got tired of living on dreams, and her old high school boyfriend was much more successful financially than Jim was.
But things start to change for the better on a rainy night, when Jim stops to help an old man whose car skid off the highway into a creek. The resulting publicity makes him an instant hero. After being lionized by the local press and used for free publicity by the radio station he works for, Jim suddenly finds himself being given a shot at the big time, in his career and his love life. His agent finally gets him an interview with the big league team he's always dreamed of broadcasting for, and a friend sets him up with a nice woman named Anne Finley. She restores his faith in love, as well as in himself, and before too long they become engaged. But then they decide to fight for custody of Jim's daughter, and Maureen breaks out the heavy artillery, a sleazy lawyer who digs up unsavory details of Anne's past. Not because she loves her daughter so much, she just doesn't want her ex-husband to have her.
Will Diamond Jim finally get the job of his dreams? Will he get custody of his beloved daughter and marry his new sweetheart in time for them to celebrate Christmas as a family? These and other questions can be answered by purchasing a copy of "The Diamond Man" from Gypsy Shadow Publishing, or directly from the author on his Facebook site, facebook.com/molloyauthor. Or just go to his website, www.molloyauthor.com
As I said before, this is one of the most charming books I've ever read, with an unusual premise; a romance written from the man's point of view. We ladies have dominated the romance writing field since it began, back in Old England way before the Victorian Era, when the only respectable way for a lady to support herself was by writing. Granted, there have been attempts by men to write romances tailored to feminine tastes, but the few I've read usually do so with a heavy-handed emphasis on flowery speeches, violent fight scenes between the hero and the villain, and descriptions of heated embraces and long, passionate kisses that leave you feeling vaguely aroused and wondering if the two protagonists have managed to consummate their passion, or if they're just doing some heavy petting. You usually don't find out until several chapters later that the heroine is pregnant. Michael Molloy lets his protagonists go at it like grownups, in the privacy of Annie's home, not like a couple of horny teenagers in the backseat of a car in a semi-public place. And nobody gets pregnant except Maureen, Jim's nasty ex-wife. At least she has the decency to divorce Jim and marry the baby's father, though that's probably the last decent thing she does.
So get yourself a copy of "The Diamond Man" and be prepared to revel in romance and sports. Something for both sexes to enjoy, with no undue emphasis on either to annoy those who prefer action to romance or vice-versa.